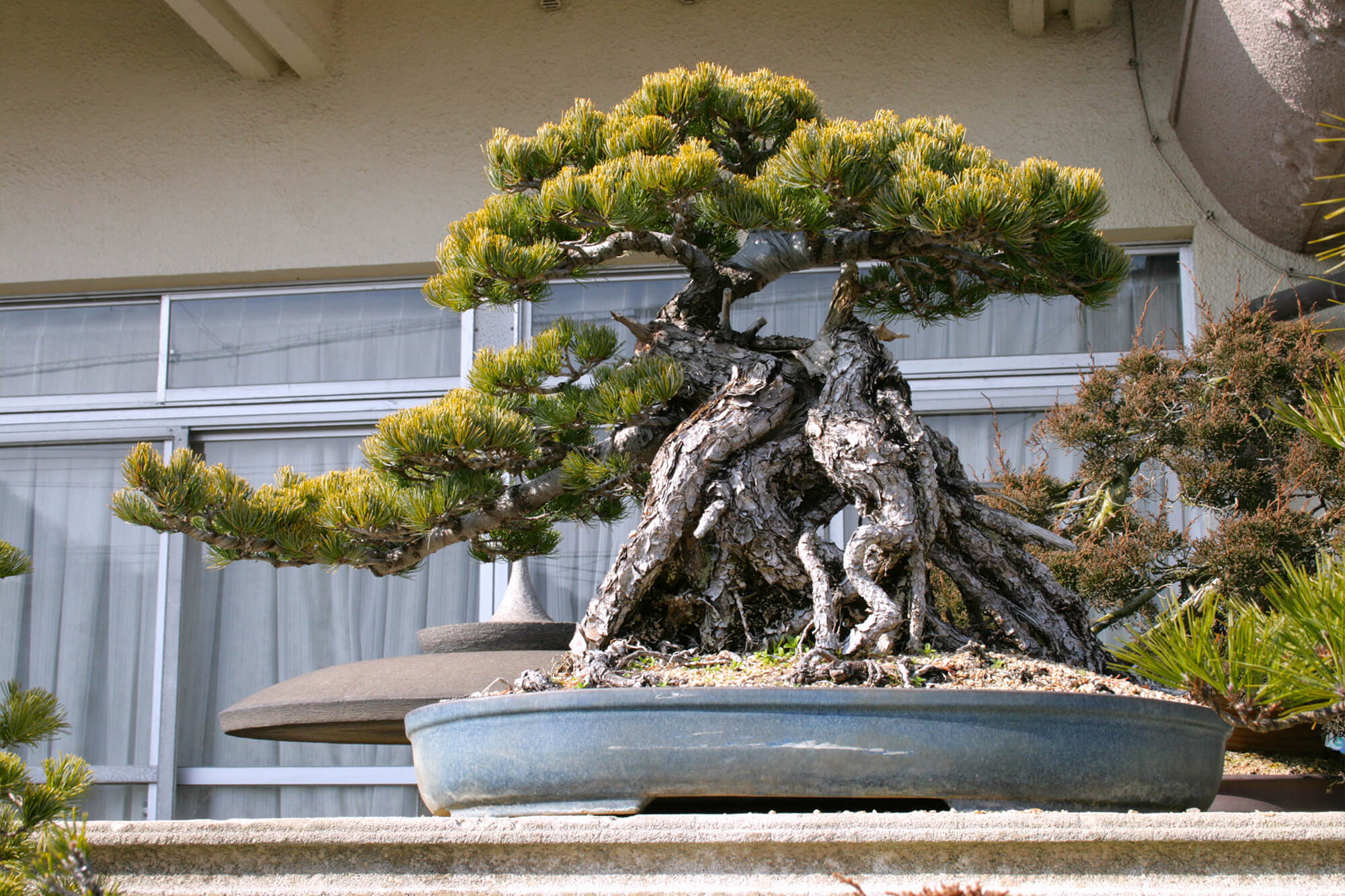 Employing foreign language skills to focus on the export of Japanese white pines
Sanshoen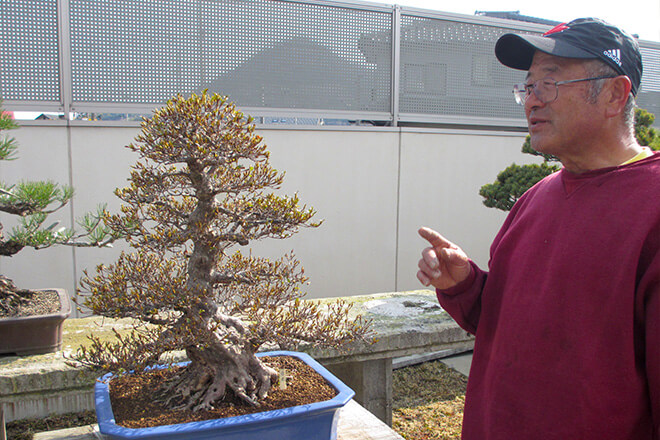 Hoping to communicate the appeal of bonsai directly to people in other countries
It is about a 10-minute walk down Prefectural Road No. 33 toward Kinashi from JR Hashioka Station to Sanshoen. There is an udon restaurant across the road from this bonsai garden.
Evergreens, such as the Japanese black pines that spread deep roots, the nishiki matsu (a Japanese black pine variety) with large crevices on their trunks, and Japanese white pines with their exposed roots displaying an air of elegance, sit regularly on the bonsai shelves at Sanshoen. Satsuki azaleas that delight with flowers and many other trees line the shelves, too. In addition, a workshop in the garden has a space set up to take pictures of the bonsai.
The passion for bonsai has now spread all over the world. Bonsai has become a common language across the world. YAMAJI Hiroyoshi, the second keeper of Sanshoen, says English is a door to other cultures. A graduate of a university of foreign studies, YAMAJI is good at foreign languages. YAMAJI began selling bonsai on the Internet early. He explains bonsai in sentences he originally wrote in English and French on the official Sanshoen website, in addition to Japanese. YAMAJI uses his foreign language skills to answer email and telephone inquiries from overseas, too.
The EU has banned the import of pines, however, Japanese white pine bonsai are an exception. Sanshoen is increasing the number of Japanese white pine bonsais by grafting white pine tips on young black pines used as stock, growing the grafted plants for five or 10 years. The garden is exports the fully-grown trees to Europe and North America.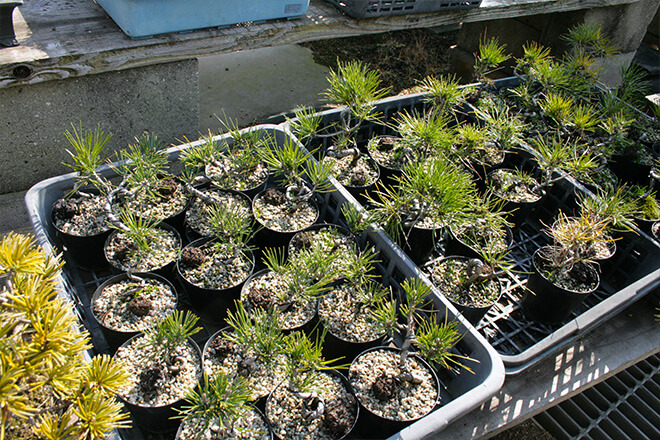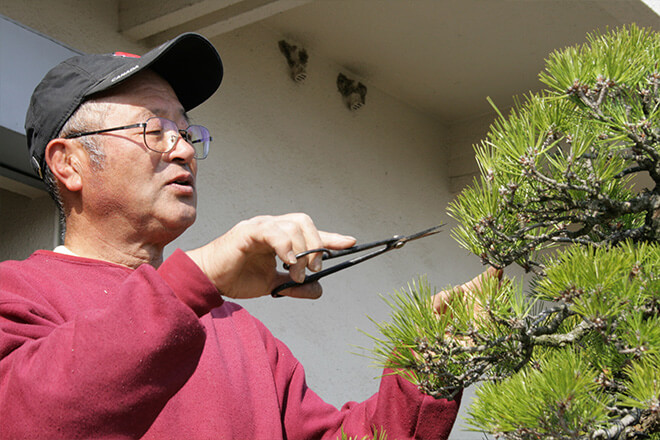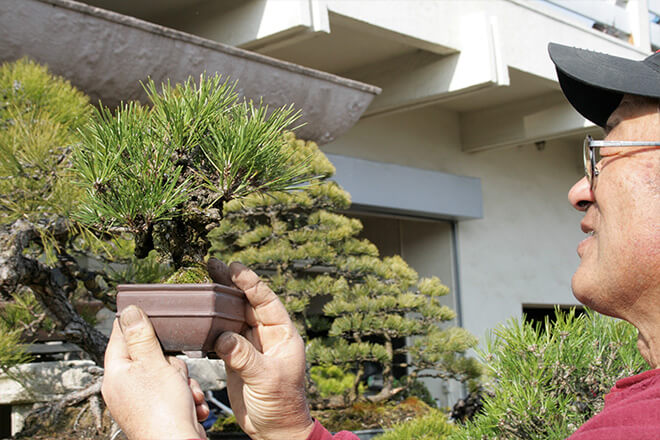 The value of bonsai lies in keeping them close-by and admiring them
"Bonsai is a Japanese traditional culture," asserts YAMAJI, looking fondly at a bonsai pot in his hands. "It is a living work of art that endures. But a bonsai withers when we give no water for 10 days. The value of bonsai lies in keeping them close to ourselves and admiring them by turning them into a part of our daily lives."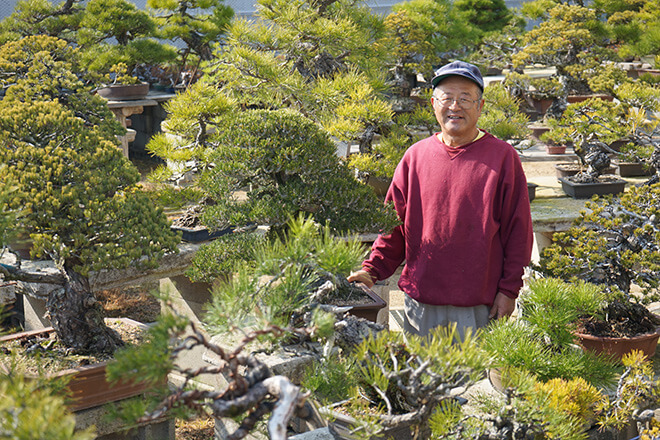 Opening the garden, and the bonsai producing area
YAMAJI's father, Hideo, opened Sanshoen in 1960. YAMAJI began assisting his father in his garden soon after graduating from university in 1974. Japan was in the middle of a period of high economic growth back then. Bonsais based on nishiki matsu, a Japanese black pine variety that had originated in his hometown of Kokubunji, sold well nationwide. YAMAJI says people like his father were able to support themselves as bonsai farmers due to the economic conditions of the day. According to YAMAJI, he and fellow bonsai growers of the same generation have cultivated a shared attitude to promote Kokubunji as a bonsai producing center, focusing on growing bonsai, sharing skills and designs with each other, developing their areas of expertise, buying from each other, and introducing customers to each other along the way.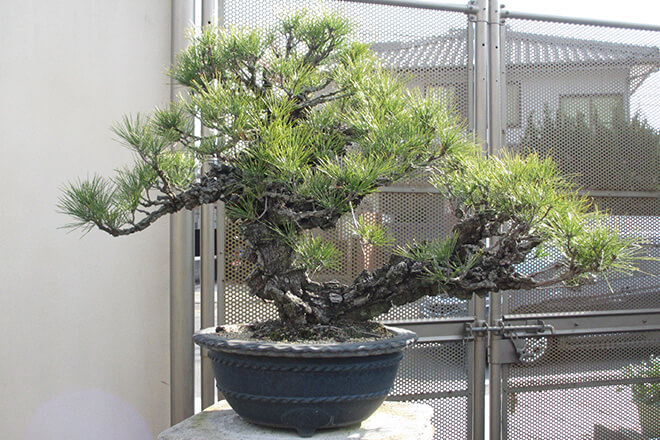 A bonsai worldview for enjoying contained scenery and time
"Enthusiasts create scenery within a bonsai," notes YAMAJI, who is recommending his customers to plant a tree in a pot, water the tree and grow it themselves to develop what he calls kigokoro (affection for the tree like a mother caring for her child). "Our garden offers a wide variety of less expensive bonsai. I think they are reasonably priced." Superimposing beautiful natural scenery on a bonsai before our eyes, valuing life, and finding condensed time within a bonsai seem to the sensitivities that enable the enjoyment of bonsai.
Sanshoen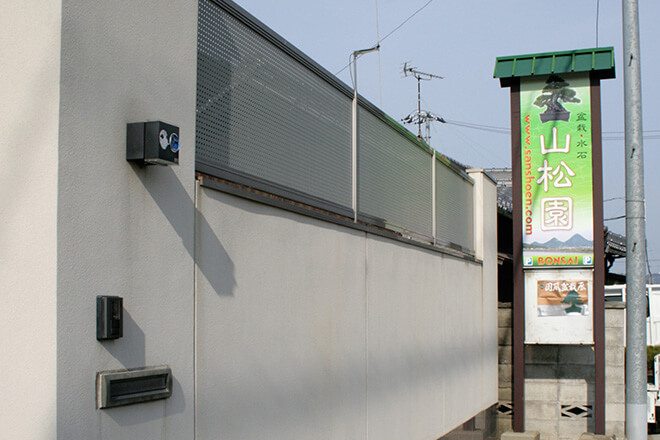 ADDRESS

3425-1 Kokubunji-cho, Takamatsu City, Kagawa Prefecture

TEL

MAIL

URL