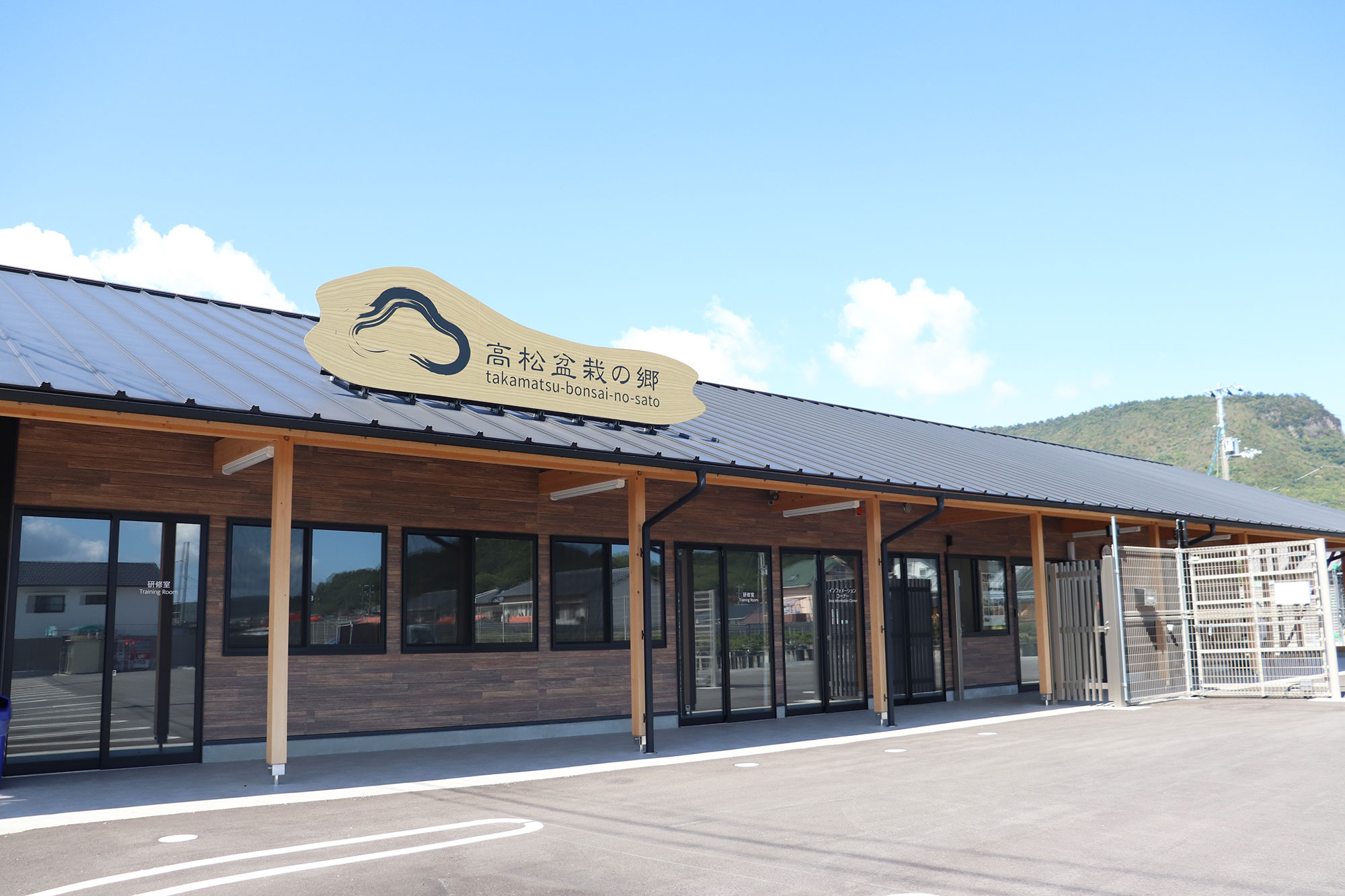 Many people, from bonsai beginners to enthusiasts, visit Takamatsu Bonsai no Sato
Many people, from bonsai beginners to enthusiasts, visit Takamatsu Bonsai no Sato
Takamatsu Bonsai no Sato opened in April 2020 to be a hub for the bonsai areas of Takamatsu in Kagawa Prefecture. Bonsai beginners and tourists visit because of the casual bonsai viewing and experience the facility provides. It also attracts the attention of bonsai enthusiasts because of it's amazing lineup of bonsai trees, with over 10,000 shoshaku (evergreen conifer) and zoki  (trees changing appearance by season), developed through the participation of approximately 50 bonsai gardens. The collection of bonsai trees the facility features is not notable only for its size, but also it's wide variety. The collection includes shoshaku species, such as black pines, Japanese white pines, cork bark Japanese black pine, and Chinese juniper, and the zoki and sanyaso (native plants and wildflowers) are replaced by producers every season.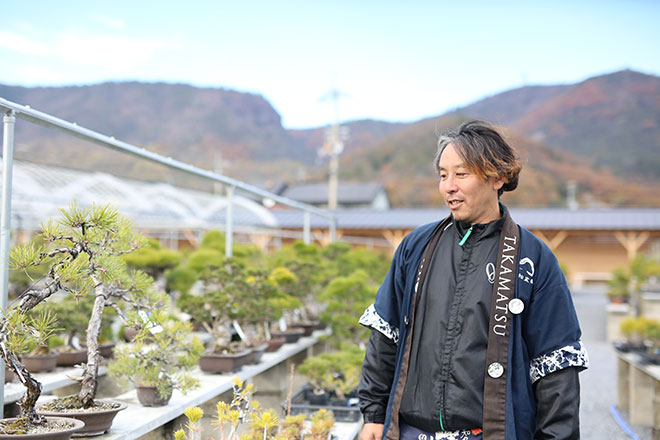 Yusuke Hashimoto is in charge of taking care of the bonsai. Hashimoto is also the owner of Sakuya Kobo in Kokubunji.He is an expert that was hand picked at the opening of Takamatsu Bonsai no Sato because of his ability to teach how to select and grow bonsai.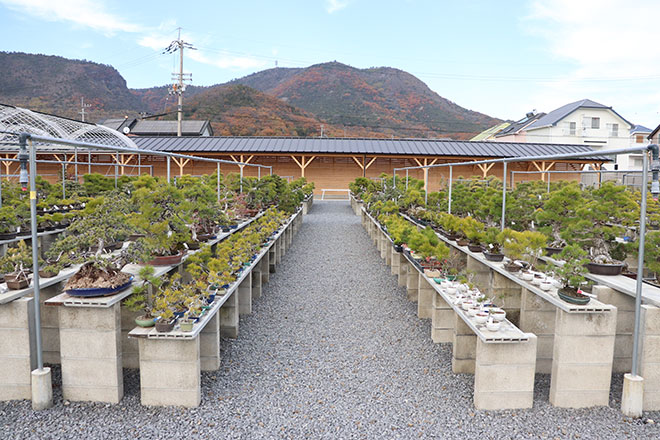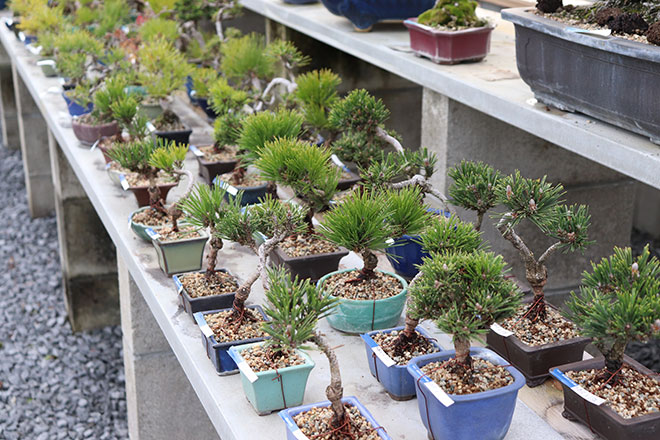 A highlight of bonsai is their trunks
We asked Hashimoto about how to appreciate bonsai. He told us to look at the trunks of bonsai.
The Moyogi style is the most popular bonsai tree style and often painted on the background of Noh theaters. The neagari style appreciates the roots of the tree, as they are exposed extensions of the trunk, while the chokkan style is characterized by its straight, upright trunk. Sokan-style trees have two trunks rising from the root, while the trunk of shakan-style trees rises at an angle. The kengai style trees falls below the base of the pot and ishitsuki-style trees grow from between rocks. The fukinagashi style represents windblown trees and bunjingi-style trees have thin trunks with foliage only near the top. Some bonsai have three or four highlights in a single tree.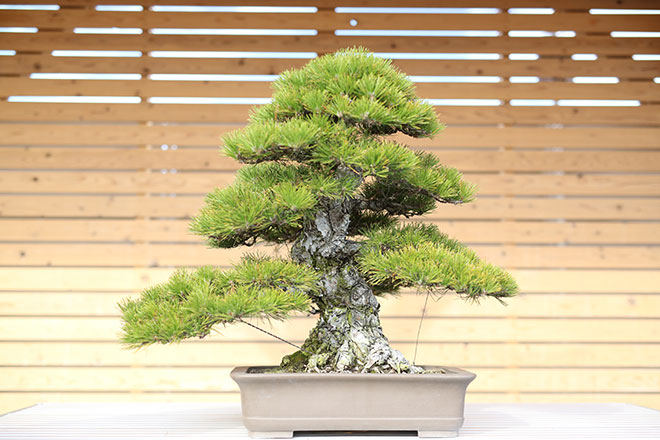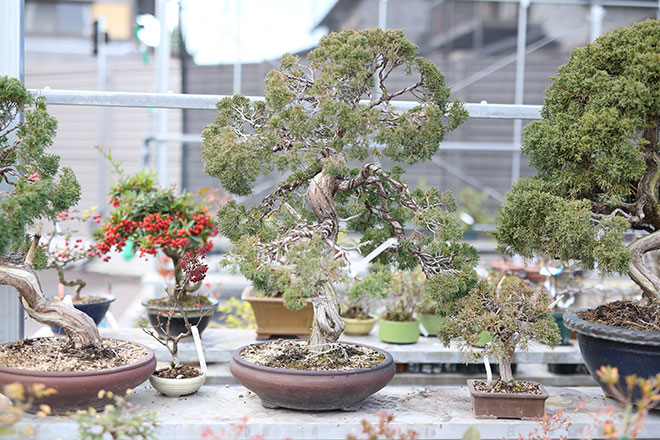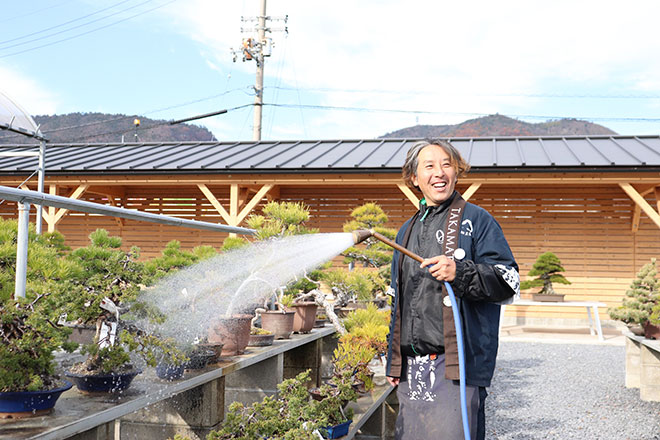 Every bonsai tree in Takamatsu Bonsai no Sato is a complete bonsai tree and, at the same time, the materials for the tree that it will be shaped into. Hashimoto introduces bonsai that are suited to the needs of the customer by talking to them: he recommends black pines to beginners who want to grow a bonsai while maintaining its current shape and cherry trees, persimmon trees or maple trees to the customers who want to enjoy the changing seasons through their flowers, fruits or autumn leaves.
The efforts of nature and humans coexist in bonsai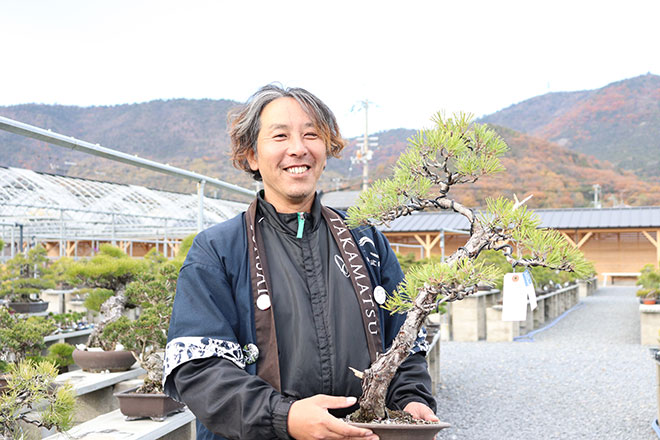 "If flower arrangement is an art of addition, bonsai is an art of subtraction," says Hashimoto.
"Subtraction" by selecting unnecessary new buds and grown branches and pruning them away is an important method in the creation of bonsai. Branches can be wired to lower them to make them appear to be aged trees.
Hashimoto showed us his favorite style, bunjingi. Bunjingi is the tree shape that was loved by an great traditional literary figure and it features rough bark on a thin trunk, which gives the tree a dignified look. Most of all, bunjingi-style red pines are attractive, featuring a gentle feeling that contrasts its aged look.
Even Hashimoto, who has worked with bonsai for many years says, "I would consider myself lucky if I could create one bonsai tree that I liked in my lifetime." It may be this difficulty that elevates the art of bonsai, which is the fusion of nature and human effort.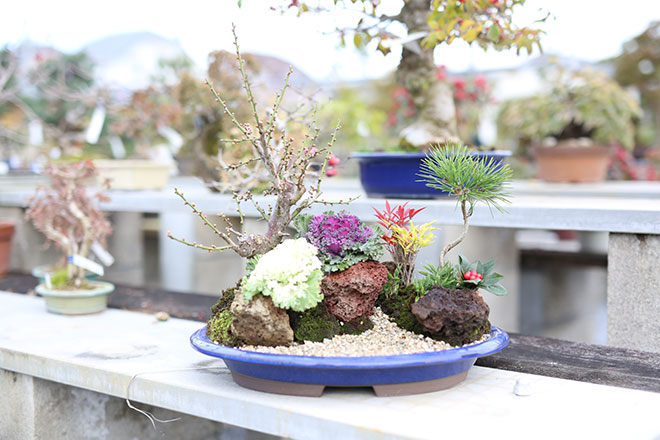 Opportunities to be exposed to plants through kokedama (moss ball) making and yoseue (group planting) workshops
Hashimoto was among the first to offer kokedama making and green tourism experiences in Sakuya Kobo with the goal of familiarizing children, who have hardly been exposed to soil, with plants.
Kokedama making experiences and yoseue workshops are also provided at Takamatsu Bonsai no Sato by reservation.
"Young people may hesitate to start growing bonsai. They can start growing kokedama or yoseue plants, which may be easier to start."
The Takamatsu Bonsai School opened in October 2020. Students, ranging from primary school students to people in their 80s, are learning the authentic art of bonsai. Takamatsu Bonsai no Sato fosters new bonsai enthusiasts and bonsai artists.
Takamatsu Bonsai no Sato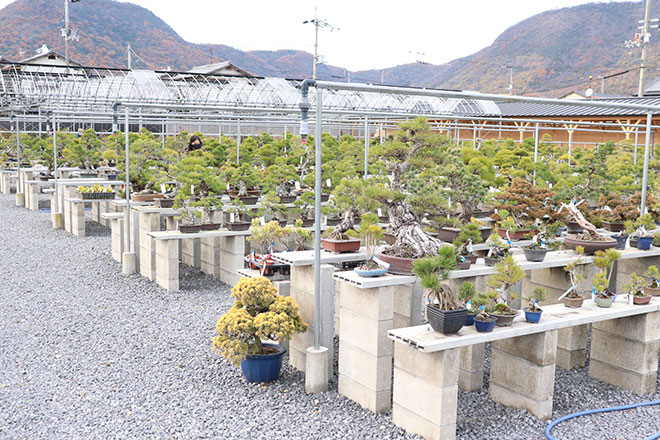 ADDRESS

353-1 Kokubu, Kokubunji-cho, Takamatsu-shi, Kagawa Prefecture

TEL